Disabled Rooms
Accessible Room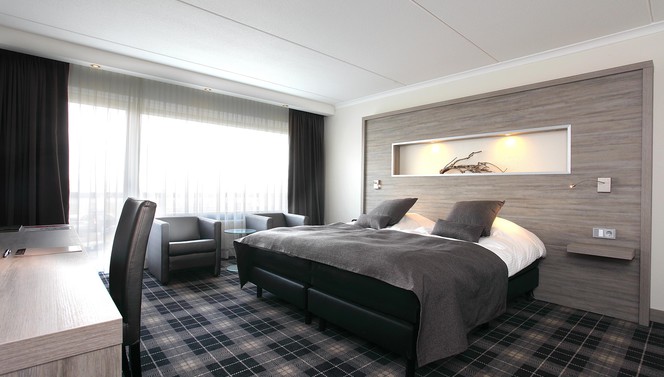 Our hotel has 3 accessible rooms for disabled guests close to our front desk. The rooms all have a higher bed and have a separate bathroom with shower and toilet. The bathrooms are all equipped with extra facilities, such as a suspended mirror and extra handgrips.
Do you need specialised care during your stay? In collaboration with Zorgsam, we can offer you professional care during your stay in our hotel.
Our accessible room do not include breakfast. Of course, it is possible to enjoy our extensive breakfast buffet. The costs for this are €15.50 per person and is available:
Monday – Friday: 6:30-11:00 am.
Saturday and Sunday: 7:00-11:00 am.
If you would like, we can also serve you breakfast in your room between 7:30-11:00 am.
During your stay, room service is always available. You will find a menu in your room listing what can be ordered through room service.
For only €14,50 we will fill your minibar with delicious drinks and snacks. The amount of rooms with a minibar is limited, please ask our frontdesk employees for more information.